Making A Difference In Workplace Training
Thursday 7th April, 2022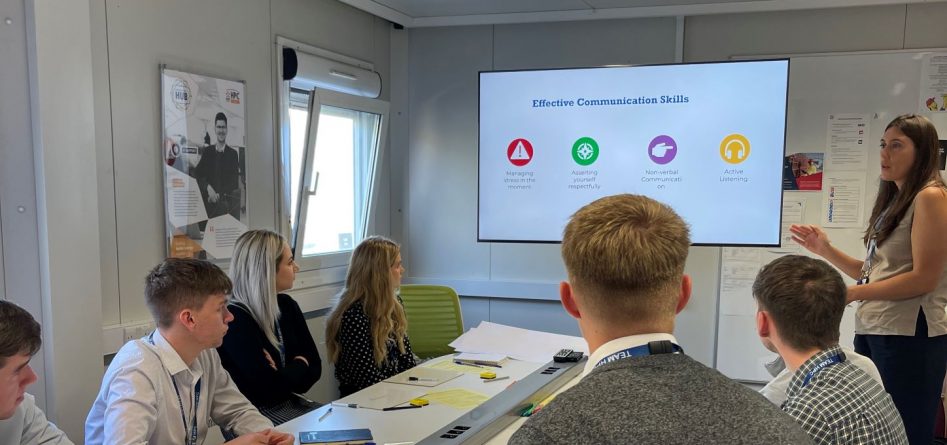 We are continuing to grow our workplace training which provides organisations with interactive and thought-provoking sessions which help to build on teams' interpersonal skills. As a charity this work provides us with a unique income as we reinvest the profits from our workplace deliveries into the activities of the charity, enabling us to reach and educate more people in violence prevention. 
Over the last 6 months we've worked with the team at EDF based at Hinkley Point C to offer a range of training which has included the delivery of our new Team Development Sessions as part of National Apprenticeship week. These sessions are part of a series of online team building, promoting the development of togetherness, empathy, and motivation within teams by enhancing self-awareness and communication skills.
Our online Team Development Sessions are designed to be run as regular check ins, providing teams working remotely time together to discover and develop skills to promote positive wellbeing and help people grow both personally and professionally. The sessions focus on topics that help us understanding ourselves and others to encourage us to improve our mental fitness, enable us to communicate effectively and work together harmoniously.
We take pride in all our sessions taking difficult subjects in an upbeat, interactive, and engaging way. Providing the opportunity for learning, discussion, and feedback on each topic. As in our Bullying and Harassment Prevention work, we collaborate with organisations and develop skills to encourage a positive workplace culture where everybody feels safe and has the opportunity to thrive. 
A recent poll of 2,000 UK adults, by Bolt Burdon Kemp found only 50% felt bullying, discrimination or harassment were taken seriously. This is a disappointing figure when you understand there is a direct link between negative workplace culture and how confident employees feel in reporting complaints because of how reports they will be handled. We work with forward thinking organisations who seek to ensure bullying and harassment, has no place in the workplace and those who wish to empower their teams with the skills and confidence to speak out and develop a culture that they feel able to do this within.  
For more information on our range of training, get in touch with our Director of Training, Hannah Palmer at [email protected]