When September Ends – a book by Adam Fouracre with Dave Urwin
Tuesday 28th September, 2021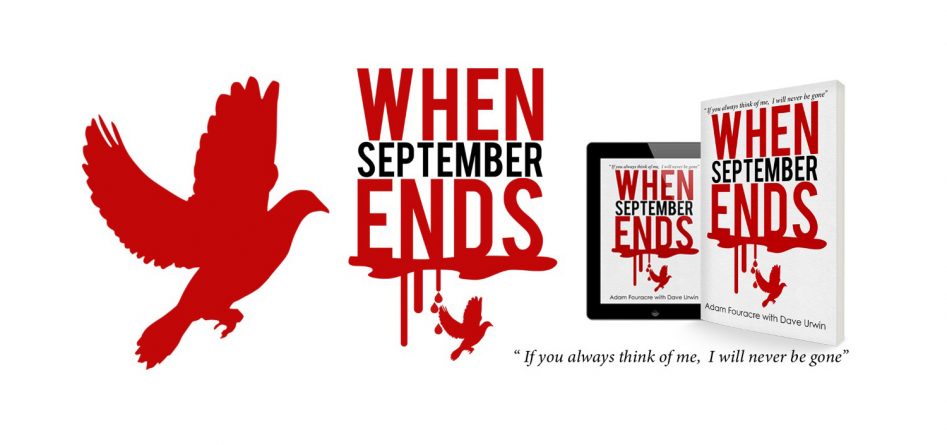 In June 2019 I was honoured to receive an e-mail from Adam Fouracre, CEO of Stand Against Violence, asking me to help him put together a book of the charity's story and the events surrounding the attack on his brother Lloyd, whose death led to the formation of SAV. I was also a little nervous, as the task of turning such a personal and poignant story into a book for others to read is not one that should be taken lightly.
Luckily for me Adam had written the bare bones of a manuscript already, which documented how he had found a positive in one of the most tragic events anyone can experience by trying to ensure lessons are learnt. What began as a small local campaign, albeit with some 26,000 signatures for a petition, became a national charity that would reach thousands upon thousands of young people all over the UK. They would hear Lloyd's story as an example of the impact violence can have but would also be encouraged to discuss with each other what violence is, what impact it can cause and why it is vital to choose non-violence. As Reverend Bruce Thompson, an early supporter of Stand Against Violence, told Adam, we will never know how many lives the work of Stand Against Violence has saved. However, when the charity began the aim was to help at least one family not to have to experience the same tragedy the Fouracres did. I have no doubt in my mind that this aim has been surpassed many times over.
Another dimension was added to the book when Jay, one of the men responsible for the attack on Lloyd, agreed to include some chapters in the book from his perspective. One of the most significant moments in the charity's history was when Adam met with Jay to hear exactly what happened the night Lloyd was attacked and why it happened. Without revealing too much about the book's content let's just say Jay's chapters are likely to change many peoples' perspective. Without perpetrators of violence there are no victims and so it's most important to consider what makes someone violent and whether this can be stopped from escalating into a tragic event.
There are numerous lighter moments in the book as well as the obviously serious subject matter. Some heart warming tales of Adam and Lloyd's childhood and what worried Adam most about meeting Her Royal Majesty The Queen to name just a couple. The overall message of the book looks at the positives in terms of what can be learnt from such a horrific event in order to try and prevent history from repeating itself, although of course what happened to Lloyd changed his family's lives forever and this is not shied away from.
Within a couple of weeks of the book being available on Amazon and only minimal promotion so far over 150 copies have been sold, which indicates just what an impact these events had on people locally. My personal hope is that the book is read by as many people as we have reached over the years with our violence prevention workshops, or more. It is a reminder of how fragile life is but more importantly how the answer is in all of our hands. The work of the charity is aimed at creating a generational change whereby all will choose non-violence. This will take time, but it's all there in the lyrics of a track by Bristolian drum & bass producer Roni Size from around the time Lloyd was killed: –
"One can make a difference
10 can make a change
100 can make things better in our lanes
1,000,000 and we're finally close to the solution"
The track was called 'No More' and was a plea for people involved in violence to think about their actions and to choose not to follow that path any longer. During his time in prison, sentenced for Lloyd's murder, that's exactly what Jay did. If he can then others can do the same.
When September Ends is about capacity for change, how one terrible mistake can lead to lives being forever altered and how championing a cause can lead to incredible things. I hope the book will not only inspire people to choose non-violence but to try and make a difference in other ways. Adam has shown through telling his story that one person can make a difference because others will care enough to help it happen. You just have to be brave enough to speak up, like Adam was and still remains some 16 years later.
By Dave Urwin, Community Funding and Development Officer, Stand Against Violence
You can purchase your copy of the book HERE