We're All in This Together: An interview with Patrick Green, CEO of the Ben Kinsella Trust
Monday 23rd November, 2020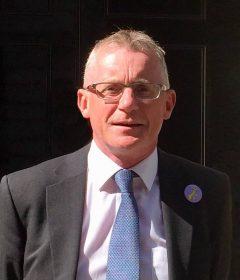 The parallels between the stories behind Stand Against Violence and the Ben Kinsella Trust paint the sad picture that illustrates how what happened to Lloyd was not a one-off. No fewer than 24 people under the age of 18 died through incidents of knife crime in 2019 alone in the UK. That might not sound like many, but to the families and friends of those 24 young people it would have made all the difference in the world. Life is changed forever when you lose somebody close to you in this way. Most of us are lucky never to have to experience it, but every one of the over 1 million violent attacks in the UK each year has an impact on the victim, with many experiencing mental health issues. Discussion around this in itself could fill a whole day and beyond, but for now let me give you some background on the Ben Kinsella Trust.
Ben Kinsella was 16 years old, and his sister Brooke was a nationally famous actress. He had his own ambitions of becoming a graphic designer, and on the night of his last GCSE exam in late June 2008 he went for a night out with friends to celebrate. I remember doing just the same when I was 16. I came home that night…. eventually, but Ben never would. On their way home Ben and his friends thought they were being followed; a suspicion that was quickly confirmed to be true. Just three months earlier he had written to then Prime Minister Gordon Brown to plead with him to do more to try and tackle the growing problem of knife crime. Now he was faced with one of the very situations he was campaigning to stop. He ran, but the three boys who were following caught up and he was stabbed, his injuries proving fatal.
Brooke was obviously distraught, but like Adam she decided that something had to be done to try and help other families not to go through the same thing, and she was the person to do it. She formed the Ben Kinsella Trust, which is still campaigning today to try and prevent young people from becoming a victim or perpetrator of knife crime. During a phone conversation with current CEO Patrick Green I learnt more about how the charity formed, what they are doing now and their hopes for the future. The more we talked the more parallels we identified between our two charities and agreed that collaboration is important because every charity of this kind has the same end goal.
We began by discussing the impact Covid-19 has had on the way we've been able to work this year.
"We'd love to get back to the way we were working before, because you can't beat face-to-face contact," admits Patrick, and I completely agree, "Technology has allowed us to continue delivering our work at times when we've been unable to do so in person, which is fantastic, but there are also limits and I believe that face-to-face work has the strongest impact for this kind of message especially."
I asked Patrick to explain in more detail what the delivery of the Trust's work involves.
"Well, we focus solely on knife crime," he begins, "We work primarily in London and Nottingham, which are the two areas that have the biggest problems when it comes to such incidents."
"Around ten years ago I knew a guy from Nottingham who said gun crime was a problem there?" I mention.
"Yes, it used to be known as 'Shottingham," Patrick confirms, "Having been there I would say the problems are no worse than any other major city. I did witness quite open drug dealing, and we know that gangs operate in the area. Most of the violent incidents that happen are connected to gang rivalry, and it's often drug-related."
I mention about the County Lines gangs who look to recruit members in Somerset by sending someone down to get established in the local area and look for potential targets for grooming.
"Gangs are always looking to expand their territory," he says, "Since the lockdown this year in March the way they do it has had more of an online focus. A lot of grooming goes on via social media nowadays, so gangs from London are looking to recruit members from Milton Keynes, and they don't even have to leave their own home to do it. Gangs are resourceful and as Professor Simon Harding identified, drivers behind the way they operate are changing all the time, so it's hard to keep pace. I've even heard of gangs paying for people to go to University so they can have a new client base in the halls of residence!"
Knowing how expensive university fees are, it must mean the gangs are making a huge profit to be able to do this, which brings us onto the issue of funding.
"Funding remains one of the biggest issues," explains Patrick, "When Brooke started the charity she realised this, and didn't want to replicate what others were already doing and compete for ever-decreasing funds, so she spent three years visiting other projects to try and find out why this was happening, what was already being done and what she could do that was different. She was commissioned to make a TV documentary in 2011 called 'Tackling Knife Crime Together' and was then able to travel to the USA to make a similar documentary about gun crime. Violence is a global issue, and of course it manifests itself in different forms all over the world, but knife crime was a quickly growing problem in the UK and of course is how Ben lost his life, so she decided to focus on this area."
I ask if a change in the level of knife crime has been seen since the charity began?
"We did actually see a reduction in knife crime between 2011-2014," he recalls, "But the problem was as soon as this happened the funding disappeared. It was argued that knife crime was decreasing, and was no longer a pressing issue, so being funded to work on prevention was not considered a priority. The effect of this was depressingly predictable."
Since 2014 there has been an 85% overall increase in the incidences of knife crime, the number going up every quarter relentlessly. This has led to the issue being taken more seriously, with around 14 VRUs (Violence Reduction Units) being formed as part of local police forces to help tackle this and other issues surrounding violence.
"The approach of the VRUs is correct," agrees Patrick, "They are all localised, so you have people with in depth-knowledge of the issues faced by a local area working with other organisations to try and tackle them. Only certain areas have a violence reduction unit, which I guess would be the areas they are perceived to be most needed, but they should be everywhere; a truly national approach to tackling violent crime but with focus on each local area is the way you'll see a true reduction."
As I explain to Patrick, Stand Against Violence have been trying to increase our reach over time, working with freelance teachers to deliver our workshops in different parts of the UK, because a teacher who has local knowledge of the issues faced in a particular area will be far better placed to deliver the workshop in a way that will be most relatable. Talking of relatability, I also explain how Adam met with Jay Wall, one of Lloyd's attackers who has shown genuine remorse for what happened, and they collaborated on an anti-violence video, so young people who attend our workshops can see the impact violence can have on both the victims and the perpetrators. The viewers don't realise until the end of the video that Adam and Jay were sat next to each other the whole time they were telling their respective stories, and the message is that both of their families' lives were changed forever by what happened. I ask if Brooke has ever met any of the young men responsible for Ben's death.
"No, the problem is that all three of the men responsible still won't admit what they did," sighs Patrick, "Also, Ben's family were intimidated during the trial – they were spat at, jeered at, and nothing has suggested since that Ben's attackers show any remorse."
The two other men who stood trial for Lloyd's murder (one was charged, one acquitted) have taken no responsibility either, with only Jay showing any remorse to date. The fact he did both allowed Adam to hear exactly what happened that tragic night, gaining a degree of closure he would never otherwise have had, and has added a new element to the workshops we offer. However, the Ben Kinsella Trust have created an interactive exhibition in Islington, with inspiration gained from the Anne Frank experience in Holland, and part of this does include an ex-criminal who tells from personal experience why carrying a knife will only lead down paths you would not want to walk down.
"The Anne Frank experience is completely immersive," he explains, "When you come out of there you've become so involved in what happened to Anne and her family that you can't help but be affected, and leave with a sense of 'This won't happen again on my watch.' This was exactly the kind of experience we wanted to recreate with regards to knife crime. We have the perspectives of both the victim and the offender, there's a theatre piece, a roleplay, and basically everywhere you go in the exhibition you become immersed in that world."
It seems they have completely succeeded in what they set out to create, as the exhibition won the London Innovation Award earlier this year. The emphasis is on hearing from people with lived experience of knife crime, from both sides, with the idea being that it can't fail to have an impact on anyone who attends, and if it does leave anyone nonplussed then that person most likely needs further intervention.
"Similarly to yourselves, our aim is early intervention," he says, "When we see that someone isn't affected by what they seen and heard in the exhibition we mention this to their teacher, and suggest some organisations who they could be signposted to. Some teenagers have grown up in a world of violence, and these adverse childhood experiences make them believe whatever they've done to survive so far is the only way. Peer mentoring and positive role models can really help to show them that they can choose non-violence, and there are several organisations who do some excellent work on that front."
So, similarly to Stand Against Violence the Ben Kinsella Trust believe that early intervention has the biggest impact. As Jay's story proves, you can work successfully with someone after they have become a perpetrator of violence, but in order to create a generational change and to stop these incidents from happening it is important that young people learn their actions have consequences, and choosing violence as a means of conflict-resolution can lead to tragedy without it being their intention. Some do intend to harm others, but where does this come from? Those who wish to cause harm often see it as the only way of keeping themselves safe. In the stories of Ben Kinsella and Lloyd Fouracre, it was a case of young people with pent-up anger unleashing it with tragic consequences. With Ben it was apparently a case of young people retaliating after a fight earlier in the evening that had nothing to do with Ben or any of his friends. With Lloyd it was a case of being in the wrong place at the wrong time – it could have been anyone. Both of these incidents had far-reaching consequences and have led to family members of the victims campaigning tirelessly for years to try and prevent history repeating itself.
Both charities are doing valuable work, but the fact this work is necessary in the first place means families have been torn apart and trauma remains years later. In conclusion Patrick and I agreed that the best possible outcome, as strange as it may seem, would be for charities like ours not to be needed.
"The aim of every charity like ours should be to put itself out of business," admits Patrick, "But problems such as violence don't go away overnight. As we've seen, the need for this work is ongoing, because new gangs emerge, people have difficult circumstances and sometimes this results in them turning to violence. We have seen the amount of knife crime reduce, and so we know it can happen, but we need to keep on working to get as close to our ultimate aim as possible. Charities like ours all need to work together as best we can, because ultimately we all want the same thing."
Collaboration is key when tackling an issue such as violence. Indeed, if we are in conflict with other causes when our goal is for all to choose peaceful conflict-resolution then what are we doing?
To find out more about the work of the Ben Kinsella Trust head to www.benkinsella.org.uk